Wrap-Ups can make hole patterns and spacing easy in Mechanical Binding.
Wrap-Ups offers seven (7) types of hole patterns and spacing to our customers, shown at right.
A 3/8″ blank margin with "no type" or "pictures" on all mechanical binding prevents issues with hole patterns and spacing. The dimensions given are from final bindery cut, and do not include any manufacturing dimensions planned in the job such as bleed or mill/grind off. Those dimension need to be added during layout planning.
If you are providing us with collated and trimmed to final size book blocks, please consult us before cutting the book. The number of holes per inch and equal spacing from head and foot trim positions cannot be adjusted for in Spiral Binding. The book has to be a given size, based on the spiral pattern being used. The bindery will then center the hole pattern head to foot, ensuring both head and foot margins from holes to outside edge are equal to the spacing between holes.
Wire-O, Twin-Loop, or Double Wire are all registered trademarks for the binding elements that utilize square hole patterns.
Plastic Spiral requires the Oval Hole Pattern on most books, but some thicker books require the round hole. Please consult with your customer service representative for further instructions. 
Equipment Capabilities
Contact Us to speak to one of our experienced professionals about your Hole Patterns & Spacing needs for your project!
Common Punching Patterns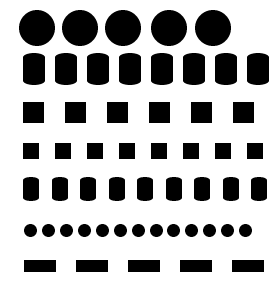 2.5 : 1 Round Hole Spiral
3.2 : 1 Oval Hole Spiral
2 : 1 Square Hole
3 : 1 Square Hole
4 : 1 Oval Hole Spiral
5 : 1 Round Hole Spiral
Standard Plastic Binding
Margins Necessary Left Edge
(Dimensions are from final cut bindery to inside right edge of hole)
2 : 1 Square Hole 5/16"
3 : 1 Square Hole 9/32"
2.5 : 1 Round Hole Spiral 7/16"
3.2 : 1 Oval Hole Spiral 3/8″
4 : 1 Oval Hole Spiral 9/32″