NEW Kolbus KM 610 Perfect Binder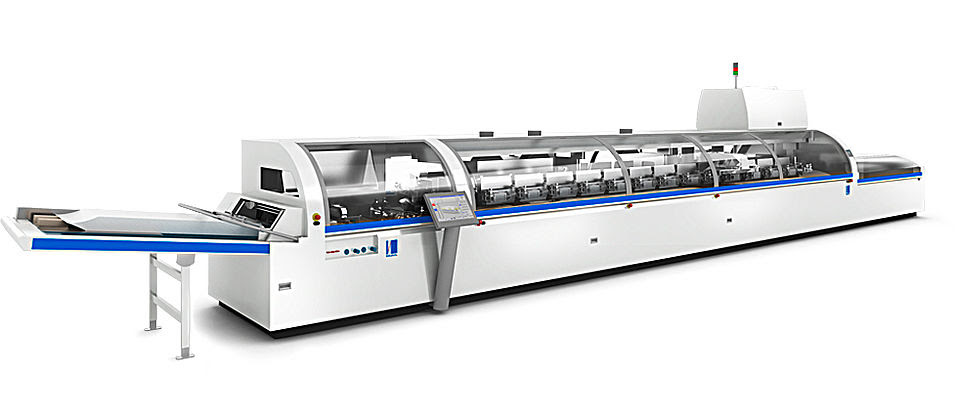 For fast project turnaround, efficient work processes,
and state-of-the-art results.
Our commitment to you includes a commitment to using the most technologically advanced equipment available today. Which  is why Wrap-Ups has added a new state-of-the-art Kolbus KM 610 perfect binder to our wide range of bindery and finishing capabilities. The Kolbus KM 610 is designed for perfect binding of products at speeds up to 8,000 books per hour and make readies in as little as 15 minutes.
Whatever your project requires, the KM 610 can deliver, including:
Binding speed of 8,000 cycles/hour
Operates with EVA or PUR Glue
Processes book blocks up to 70 mm thickness
Cameras on each collating pocket for signature inspection of text, pictures, or even barcodes
Ultra-dependable cover production and spine processing
Spine preparation & cover scoring
Cameras on Each Collating Pocket
Each pocket is equipped with a camera for signature inspection of text, pictures, or even barcodes printed on the pages/signatures. This machine is designed to eliminate any chance of duplicate pages within the book or collated set.
High-Speed Collating
This new machine also has a feature that allows us to collate and deliver completed sets fast and efficiently without going through the binder. The KM 610 is ready now for your next project. We're now accepting purchase orders and scheduling work for this new binder. We look forward to the opportunity to complete your next project here at Wrap-Ups. We invite you to come by for a personal tour or to watch the binding of your next project on the Kolbus KM 610.